FOND-ICO Sostenibilidad e Infraestructuras
Currently endowed with 400 million Euros


FOND-ICO Sostenibilidad e Infraestructuras aims to:
Investing in sustainable infrastructure assets as vectors of economic and social impact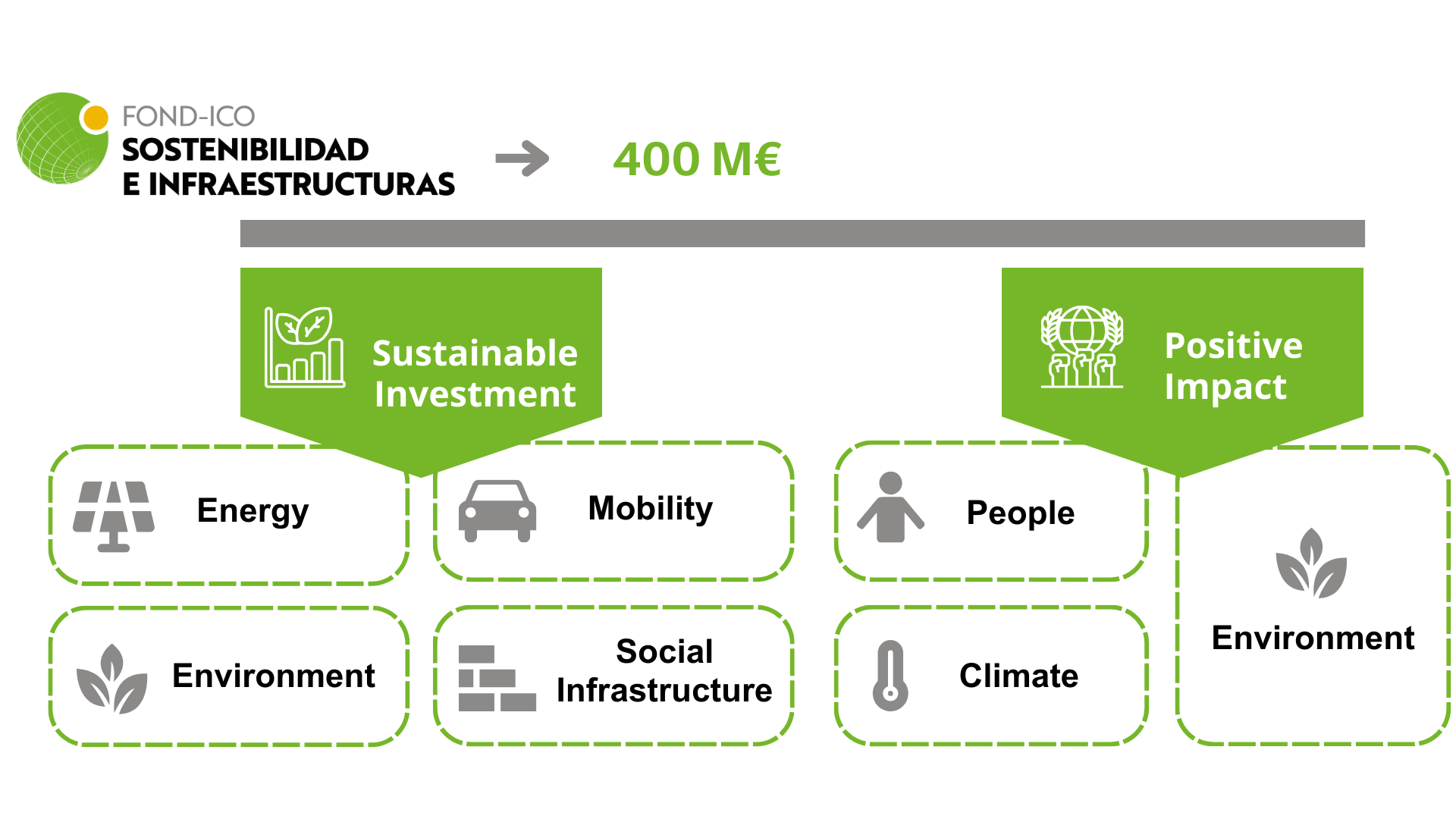 Why FOND-ICO Sostenibilidad e Infraestructuras?
Complementary to bank financing, it acts as a minority investor that facilitates the development and construction of projects contributing to a more sustainable and carbon-neutral economy. The fund provides the added value of a flexible and stable long-term investor.
How can this be achieved?
It prioritises strategic niches in the energy, mobility, environmental, and social infrastructure sectors, with a constant focus on clear positive impact for people, the climate, and the environment.
Target projects. What sectors does it invest in?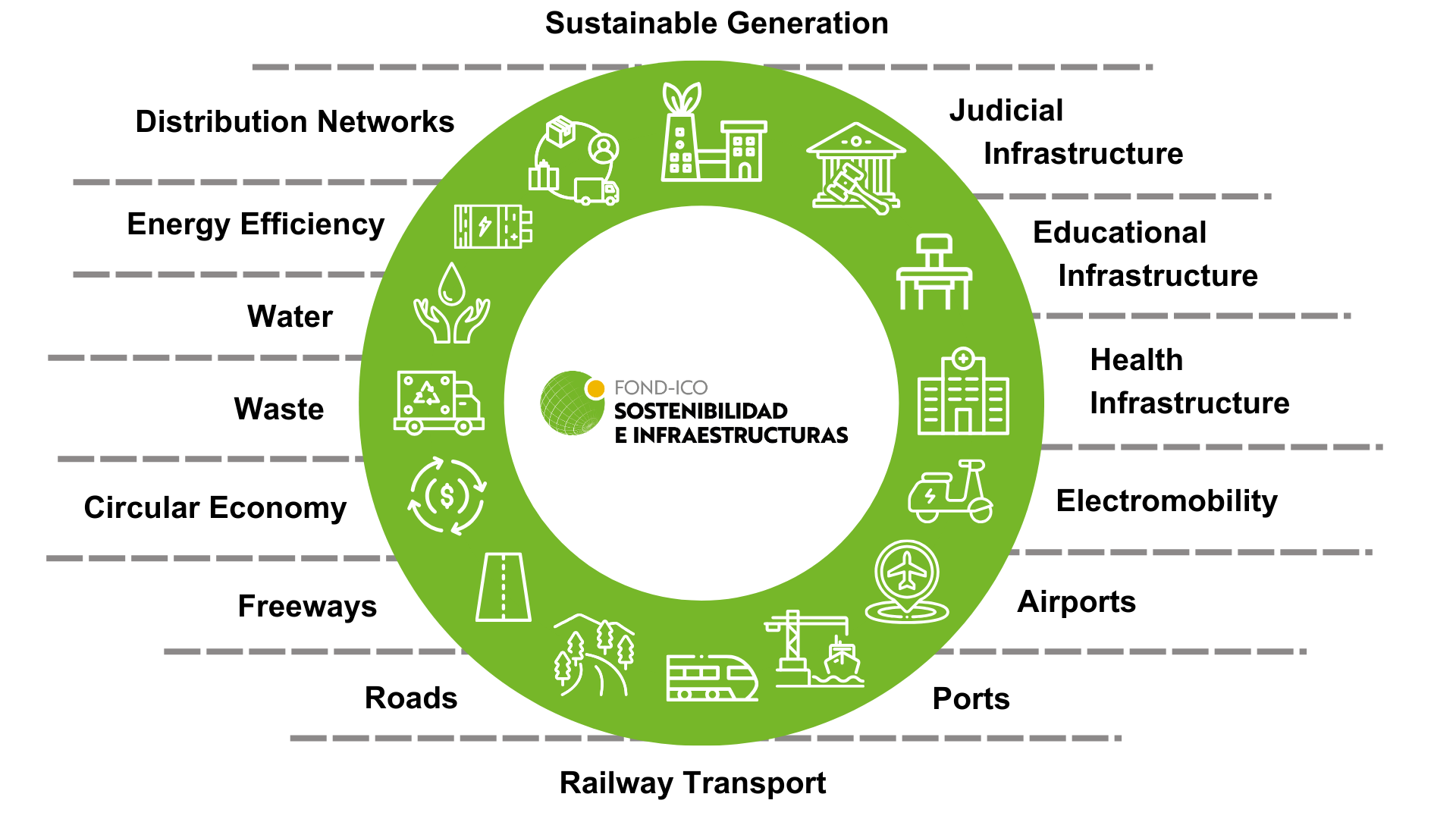 As a long-term investor, it looks for projects, in Spain and abroad, with high flow predictability, developed by qualified promoters in the following sectors:
Energy transition: sustainable power generation, distribution networks, energy efficiency.
Environment: water, waste, circular economy.
Mobility: motorways, roads, rail transport, ports, airports, electromobility.
Social infrastructure and services: healthcare, education, and judicial infrastructure.
The invested resources are destined to finance new investments that are directly derived from the project (first and foremost Greenfield).
What tools do we invest through?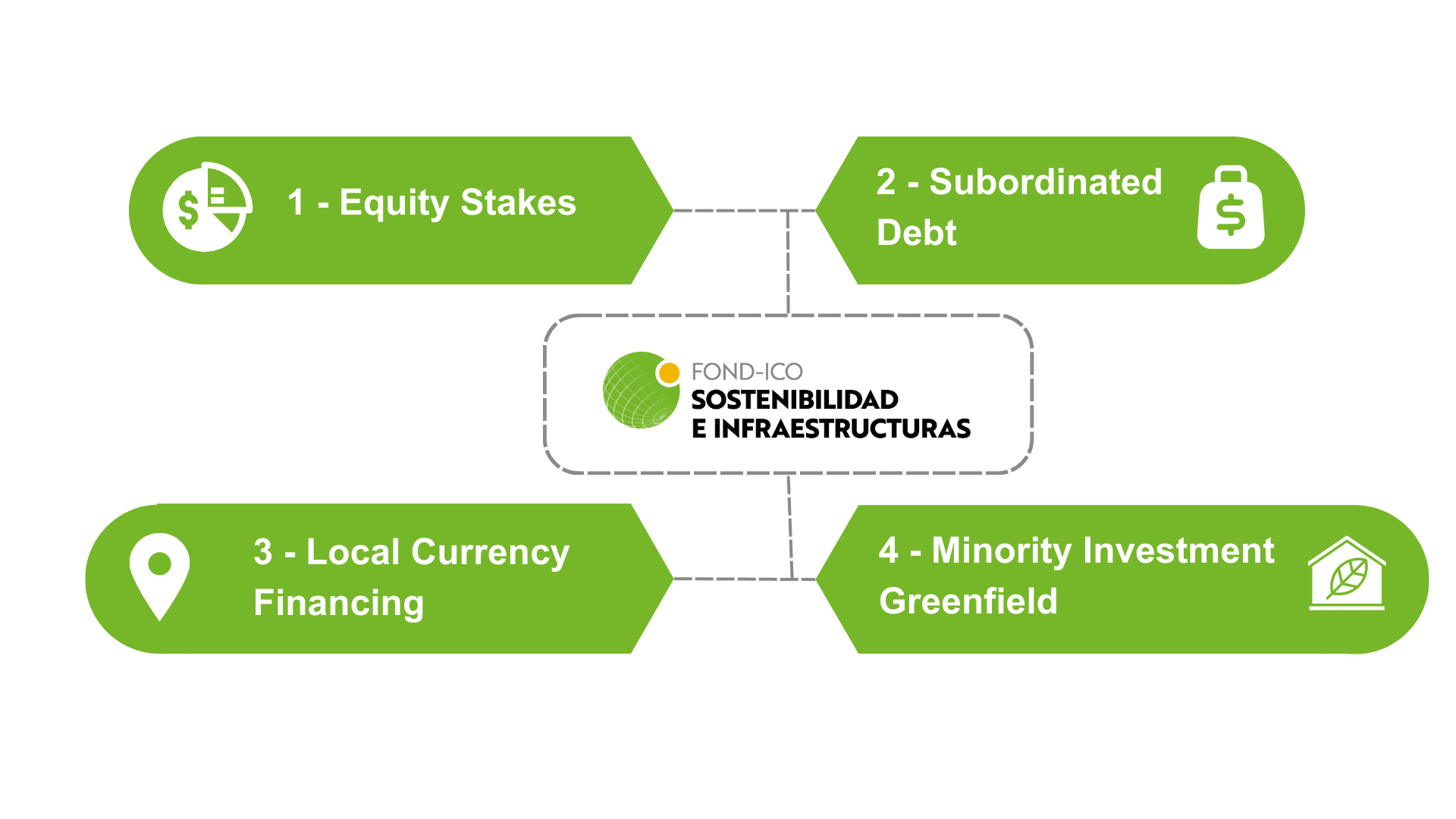 For direct investments in projects:
Equity holdings: as a minority interest and accompanied by another financial investor.
Subordinate debt or participative loans: conditions tailored to each project.
For investments abroad, financing in local currency is considered, subject to availability.

In the case of public tenders, the Fund only participates after the award of the project (generally on a concessionary basis), by which it may issue, where applicable, generic letters of eligibility in advance to bidders that make a request.

For investment in funds:
Targeting Greenfield projects with clear positive impacts, (economic, social, environmental), the fund also invests as a minority interest.

The capital of the allocated funds must be mainly private.

The manager must provide a methodology to measure the impact of its investments through sustainability indicators.
What is the range of the investment?

Between 10 and 30 million Euros per investment. Projects beyond this range may be analysed according to strategic value.
What is the duration of the investment?

The fund adjusts the duration of the investment according to the circumstances of each project, although due to its profile as a mainly long-term investor, a timeframe of 20 years can be expected.